Posted on December 14, 2012 by John K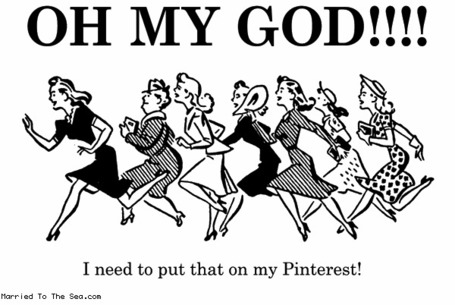 Hey, everyone. In light of my last post, I decided to really come up with a great post regarding Pinterest. I've learned a lot in the past year of being there and did a good analysis lately of what I see as top 5 niches to dominate on Pinterest. Remember, each of these have a particular want or need so that's what you should focus on and you'll definitely be able to thrive off Pinterest. This is a bit long but very useful to people that aren't really on Pinterest but SHOULD!
1.) Health
Definitely a HUGE asset to your repertoire if you are a doing a niche regarding health. With this idea in mind, you can break it down in a number of areas.
Fitness
There are a bunch of quick tips such as getting a bigger butt, getting more toned, how to effectively perform workouts, etc. If you have a blog catering to good fitness especially for the ladies, you'll draw in a lot of traffic.
Stress Relievers
Everyone endures some level of Stress in their life. It's understandable. Now, here are a few things you may see on Pinterest. One, using Meditation and Yoga as a stress reliever. That's a huge one because people can do this at home without going to a gym. Another is stress help books or tips. These spread like wildfire.
Eating the right foods
Definitely another one as people don't have time to make an all out meal. They can find on the go tips to help plan a better eating schedule or portion. There are a lot of good lists and tactics to help.
2.) Food Recipes
Sprucing up popular food items
We all love your chicken, rice, spaghetti, and vegetables. However, this gets boring after a while. We need to learn to spruce things up by making it a different way whether it's using a different type of baking, frying method. Or even using a different marinade. There is a lot of information here.
Holiday Recipes
This is pretty self-explanatory. Of course, you want some of the best recipes for the holidays. It's an awesome way to spruce up your favorites and bring some new items for your family to try during dinner or dessert.
3.) Drink Recipes!
This is my favorite right here! Why? Because I have a blog called Great Cocktail Recipes!
Party Punch
One of the greatest things about liquor is creating the perfect Jungle Juice (t-shirt coming soon) and getting a recipe for your party so you don't have to spend uber amounts of dollars. There are tons of great ways to come up with party punches on Pinterest.
Fruit and Liquor
Whether it's a homemade recipe using a special fruit like melon, watermelon or pineapple in which you can infuse a fruit, or even using a garnish to help spice up your cocktail, ladies love these things. Definitely check that out.
Recipes for males and females
Different liquors or liqueurs are great for women and men. Find out what works best with your audience! =).
4.) Fashion
Fashion Icons
Rather than bookmark their favorite fashion icon or cut out pictures of Elle magazine, they can find pictures right on Pinterest and post them up! If you have a fashion blog, it's to your interest to post on here.
DIY ideas
This should actually be a niche onto itself, but I've included it in here to keep things neat. Whether it's a tear in your clothes, using older fabrics or denims, you can find a lot of ways to recycle or create new uses from your clothes.
Creative outfits
If you are the kind of person that blogs about creative outfits or you keep a daily look, you can post it right on Pinterest and see what kind of like-minded people you can find! Definitely use this as a way to promote and market yourself as a person for the common man.
5.) Home design
Finding stores
One of the things is finding stores for the right materials. Usually someone will post where they got such and such item to do whatever task is asked.
Advice/DIY
There's tons of good advice on how to build shelves, set up your plants properly amongst other things. Take a look to find what niches pop and what niches do not. Find your interest and go for it!
If you really want to cater to the predominate women demographic on Pinterest, these are some surefire topics to dive into for the long term. Hope this helps! Happy Friday!